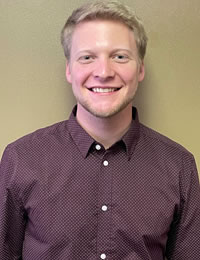 Meet Dr. Josh Mazurek
Long Lake Chiropractor
Dr. Josh grew up in Mound MN, a small town west of the twin cities. He found his passion for chiropractic senior year of high school after a hockey injury. From this point on he knew that chiropractic would be his life's work.
He pursued a bachelor's in Human Exercise Science at the University of Minnesota Duluth. After that he received his doctorate of chiropractic from Northwestern Health Science University and graduated with honors.
Movement Is Medicine
Dr. Josh believes that improper and/or lack of movement in the spine and other joints of the body is the cause of most people's discomfort. He loves working with people of all ages to help them move better through diversified chiropractic adjustments, active exercises, muscle work, and stretches.
On a Personal Note
Dr. Josh lives in Maple Plain, MN with his girlfriend Karina, and their puppy Medalla.
In his free time, Josh enjoys spending time with friends and family, learning, running, hiking, climbing, fishing, and watching Minnesota sports.
Call our Long Lake chiropractic office today to make an appointment.