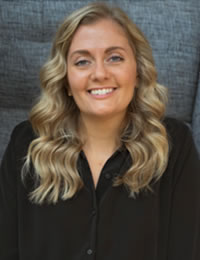 Meet Dr. Mackenzie Reinke
Eden Prairie Chiropractor
Dr. Mackenzie Reinke is a 2021 graduate of Northwestern Health Sciences University where she received her Doctorate of Chiropractic. Dr. Mackenzie is originally from Mankato, MN. She grew up playing volleyball, basketball, and track. She attended Minnesota State University, Mankato, where she received her Bachelor of Science in Exercise Science in 2018.
She joined the U.S. Army National Guard in 2015 while she was pursuing her undergraduate studies and since then has enjoyed the opportunities and friendships that have come out of that experience.
Journey to Chiropractic
Dr. Mackenzie started going to a chiropractic office for care at a young age and through that positive experience, she felt that this is what she was called to do with her life. Dr. Mackenzie loves the diversity that the clinic setting brings to her life.
Outside the office
In her free time she enjoys hiking, traveling, fishing, weight-lifting, golfing with her fiancé Logan, and hanging out with her three nephews.
Call our Eden Prairie chiropractic office today to make an appointment.

Dr. Mackenzie Reinke | Contact Us