Meet the Massage Therapists
ChiroCenter Offers Bodywork and Massage Therapy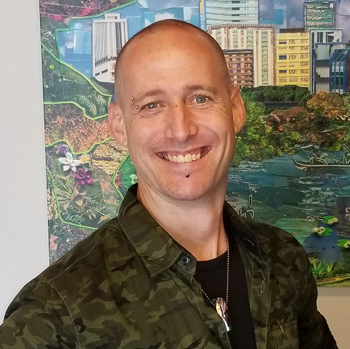 Andrew Milligan
Certified Massage Therapist and Bodyworker
Andrew Milligan is a board-certified bodyworker who has been practicing for over fifteen years. He specializes in the John Barnes approach and is also trained in Pranic Healing and Shamanic Reiki.
As a practitioner specializing in the Myofascial Release Approach, Andrew utilizes a variety of techniques such as soft tissue mobilization, cross-hand stretching, unwinding, and rebounding to correct whole-body structural dysfunction.
Read More About Andrew Milligan »
Andrew believes that bodywork elegantly synthesizes these various disciplines into a whole that is both playful and profound. Having a deep reverence for the innate wisdom of the body, Andrew is committed to facilitating a sanctuary wherein each of his patients may begin to enter the great mystery that is the human body, releasing emotional traumas both ancient and recent, and transforming the conflict between psyche and corpus into playfulness and peace.
Andrew has been stealing the stage since the age of 9, culminating in a Bachelor of Fine Arts in theater and dance. Here he gained a deep awareness of emotional and psychological motivations manifested through action, behavior, and posture. He has also practiced nineteen years of movement arts exploration through ballet, modern dance, and the Afro-Brazilian martial art of capoeira, earning a visceral understanding of the structure and function of the human body.
When not engaged in the healing alchemy that is bodywork, Andrew can be found flipping and spinning in the capoeira roda, booking his next trip to some far-flung locale to sit at the feet of an indigenous shaman, or creating mad paleo masterpieces in the kitchen!
Certifications:
Undergraduate Studies: Bachelor of Fine Arts, Southwestern University, Georgetown, TX (2004)
Diploma of Massage Therapy: A New Beginning (2003)
Additional Certifications: John Barnes Myofascial Release (2012)
Board Certifications: NCBTMB
Office Location: Uptown Minneapolis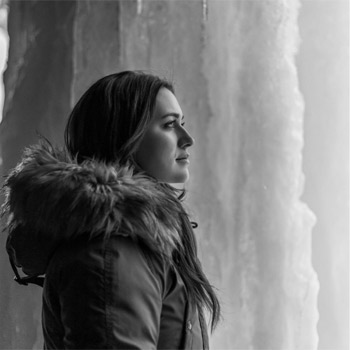 Michaela Huhne
Reiki Master
Micaela was first introduced to Reiki energy work when she was twelve years old. After suffering from migraines severe enough to put her in the hospital and with no answers from medical doctors, Micaela's mother brought her to a Reiki practitioner who was able to locate and begin to release the energetic block causing the loss of vision, appetite, and well-being.
Micaela, now a Reiki Master practitioner of the Tibetan and Usui lineage, strives to help people reconnect to themselves. She believes that we all have the ability to hear and heal ourselves, especially when we are open to a little guidance along the way. Micaela's life's mission is to help others locate their peace within, so that they may create peace outwardly.
Read More About Michaela Huhne »
When you book a Reiki session with Micaela, expect to feel amazing. Reiki is Love. Reiki is also a Japanese name for a hands-on (or off) healing technique that liberates the vital life force energy in the body. It is scientifically proven that our bodies are made of energy and how well this energy flows affects our health and happiness. Reiki has influenced and formed a foundation for much of the hands-on energy healing systems that are practiced in the West today.
So, how does it work? Under prolonged stress, our mind-body-soul gets stuck in a sympathetic nervous system response (fight or flight) and can no longer self-correct. Reiki works by reducing stress and increasing the parasympathetic nervous system response (rest and digest). In this deeply relaxed state, our mind-body-souls can begin to self-heal and rebalance.
During a Reiki session, the practitioner places their hands on or above the client's body bringing all their awareness to the client with the intent for Reiki to flow for the client's highest good. The client becomes very relaxed and an increase in energy flow occurs. Clients may fall asleep or come to a dream-like state called Theta Brain Waves. In this state, clients often report a feeling of deep peace or a sense of energy flowing throughout their body. Some clients report temperature or pressure changes, a feeling of being held, visions of colors, or images.

Theresa Jacobson
Certified Massage Therapist
Bio Coming Soon!


ChiroCenter Massage Therapy Team | Contact Us